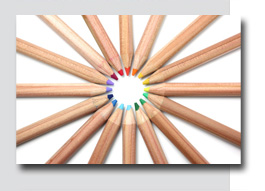 Visit us on Linked In
and Facebook

"I saw a dozen or more people I know improve their business appearance by working with Caren for logo, business card, Web site and collateral material design or re-design. Finally I worked with her too. Caren brings great expertise, extensive experience, marketing knowledge and the ability to work easily towards her client's goal. She does not insert her ego into the process, but instead takes the best of client's ideas, making it work beautifully. Caren is a real pleasure to work with. She is responsive, dependable, and has a wonderful, positive attitude. I recommend her wholeheartedly."

Charles Lindauer,
Lindauer Macintosh
Consulting

Graphic Design and Production:
These services include developing concept, visual design, image generation and electronic layout for a variety of print or web projects.
Branding/Identity Packages (logos, business cards, stationary, envelopes)
Web Design (websites, blogs, Facebook fan pages)
Collateral (brochures, flyers, rack cards, door hangers)
Direct Mail (sales letters, postcards)
Space Advertising (advertisements for yellow pages, magazines, newspapers, newsletters, etc.)
Newsletters (online and print; grayscale to four-color, 2 to 32 page)
PowerPoint Presentations (creation of basic slides and slideshows including animation)
Media packaging (development of CD/DVD liners, labels, booklets and tray-cards
Signage (signs, banners, table-toppers for trade shows/events)
Manuals and Directories (long-document formatting)
Magazines & Catalogs (production and design)
Books (trade paperback to coffee table books; black text to full four-color)
Copy Writing and Copy Editing:
We provide marketing/sales writing, article writing ("ghost writing" for clients' specialties), editing and proofreading services.
Work with client to develop text for marketing materials or edit working from existing material
Develop web copy
Create marketing letters and advertising copy
Copy-editing and proofreading for books
Writing and editing for articles and newsletters
Client interviews for testimonials and quality control assessment
Project Management:
Handling of budgets, schedules and information gathering for larger projects such as catalogs and newsletters.
Coordination of contributors and submissions for larger projects
Development and management of schedule
Development and management of budget
Solicitation and billing for advertising
Quotations from vendors for all outsourcing expenses
Print Brokering:
Whether you need printing for marketing collateral, trade show signage, books, labels, stamps or promotional products, we can get you the quantity you need with aggressive pricing. We have over twenty years of experience in the print industry.

Electronic Illustration and Fine Arts:
Product illustration and hand-drawn subjects ranging from human/animal portraits to landscapes.